Although programming is not considered a dangerous activity with many dangers, a surprising number of developers suffer from health problems. Today's developers face many physical and mental challenges. Whether it's wrist and back pain, migraines, eye strain, depression, loss of motivation, or difficulty focusing - programming can be quite a risky profession!
Why this blog post?
These are tough times during the COVID-19 pandemic, but this may just be the time to put a positive spin on your life.
I share my story to hopefully let my colleagues, friends, and others reflect on their health.
My old lifestyle
Let's put it first, this 'old lifestyle' was not so long ago. In Dutch we know the saying 'don't sell the skin before the bear is shot', but by writing this I remind myself that I have to keep it up.
I was, and still am, a programmer. A classic 'I work with computers' profession.
There are a lot of prejudices about people in ICT, in fairness I have to say I could tick off a lot
"If you are a software developer, you have to drink a lot of Mountain Dew."' Almost; it was RedBull. If I say that it was an average of 3 cans in one day in the past 5 years, I think it wouldn't be far off. Let me tell myself that it helps Max Verstappen...
"You must hate sports" Well, that was certainly true. I had no idea what I liked. A subscription to the gym only yielded a pass used with festivals.
I was the person in the office who opted for McDonald's before every external meeting, went out every hour "to see if it was raining" (which meant smoking) and was a regular guest at the 'Food & More A7'.Add to this the fact that I spend at least 2 hours in the car every day for commuting… this is by no means a sustainable situation.
Why I changed my life
This was not a conscious choice in the beginning. Okay, I was a bit overweight (105kg, bu t with a length of 197cm not extreme) and I was in the middle of the process of buying a house and had a rocky relationship; June 2019. That staggering disappeared quickly, the relationship ended. Not the most positive period in recent years. Luckily I have 'a very nice group of friends (especially 1, Inette) and family. These people have dragged me through this time. I saw light again at the end of the tunnel, tacked to try HelloFresh, and tried to hit my 10,000 steps a day.
September 2019
I lost the first 10 kilos purely by eating healthier and hitting 10k steps a day. Besides that, I started working at home more often since I have a separate office space in my new house and I was tired of traveling 10 hours a week.
I already got a lot of positive reactions about the way I looked compared to a few weeks prior and my mental state was back to normal.
Inette and me
October - December 2019
The days were getting shorter and summer came to an end. I had to express my newfound energy in some other way. Instead of saving it to get through the harsh winter months, I used it to work a lot more. Weeks of 60-70 hours, without thinking of the spare time. I got a lot of energy from my work because I really like it a lot. Everything I did was to please others; looking back on it, that wasn't a sustainable situation
in the last months of 2019, I have worked more than 150 overtime hours, which (in retrospect) I have happily converted into holidays. To be honest, I have to mention that I did not report this amount of overwork to my employer Guapa in time.
My colleagues started to notice that I looked a bit tired and I certainly noticed it myself. However, I found it hard to take a break and give some things up. During the last 2 weeks of the year, I took the time off. It took a lot of effort to let go of my work, but once I did that, my energy level dropped enormously and I noticed that I had done too much in the past months.
Around that time I got into a new relationship; Lisanne. This relationship gave (and gives) me a lot of energy and the motivation to really go for it. We bring out the best in each other. Even though I really get the jitters of '#newyearnewme', I had to.
Lisanne, Elien (cat) and me.
The goals that I considered achievable:
Quit smoking (cold turkey, from 10 cigarettes a day to 0)
Complete a 4 mile run in my own city; preferably in less than 40 minutes.
Attend a 7km 'strong Viking run' with my colleagues
Try to maintain a pescetarian diet (no meat, especially no pork)
Increase my sleep to an average of 8 hours a day.
Shift my rhythm and start working at 7 am when I work from home
No longer drive to work while it's still dark to avoid winter depressions
Trying to quit smoking would be the 35th attempt, running was probably just an idea. As for giving up meat? I for sure was going to miss it way too much for that to succeed.
Well, the one most shocked ... is me.
I watched the documentary 'game changers' after a close friend recommended it to me. This showed that meat is really not as necessary as the manufacturers and farmers have us believe. Top athletes who are in their best shape ever by turning their lives around. Would it really matter? In addition, my girlfriend had been a pescatarian for years (she did not want to miss out on the sushi ..;)) and has informed me; not trying to convince.
What did I do to achieve my goals?
To start immediately with the bad news; I smoked on January 1 and on a gaming night at work (January 24). The positive thing about this is that not imposing an absolute restriction on myself turned out to be the solution. I was allowed to smoke a cigarette myself if I wanted to, but then I had to buy a whole pack for a single cigarette. That resulted in an 'I no longer buy cigarettes', not the best socially speaking; since you always have to ask if you can have a cigarette. The latter took the last bit of positive out of smoking.. and then suddenly I quit smoking without realizing it.
Because I was already used to cooking with HelloFresh, switching to a meat-free variant was easy. The first few times I added meat substitutes, which were nice for the transition. Next to this I also ordered 10kg of Whey from Body & Fit, so I get at least 100g of protein a day.
With the recovering lungs in my body, I also went to see if that running would ever succeed. The first attempt was to run a kilometer and then complete the hour. It was a 07:39 pace on average, but a 5:21 first kilometer. So I thought if I can keep that up for 6.4 kilometers (4 miles) then we are there.
To do heart rate workouts and motivate myself, I bought an Apple Watch together with the Airpods Pro. This turned out to be a golden move, thanks to my 'information obesity' I quickly started to analyze my body. A new scale with a link to Apple Health finished it off.
I've purchased a used Mountainbike, so on active resting days that could be used. From this point it went up quickly, I ran 5km, 6km, and even 10km. The 4 miles were achievable; now train to get the time right. Now that I no longer had to walk, I realized; this is quite fun to do! I ran the first edition of 'Parkrun Stadspark' and went there the following week. Also, I took a registration at the gym, so that I could do something on the running-free days.
---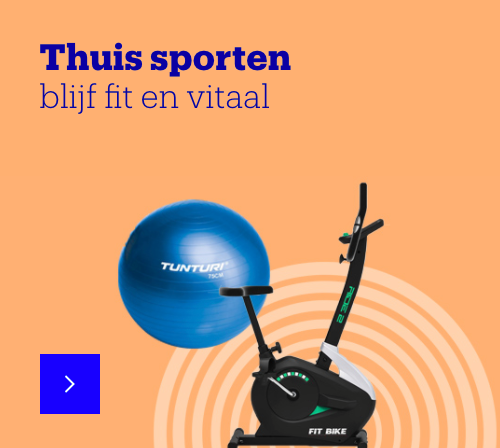 And then came what everyone already sees coming; COVID-19.
Instead of seeing it as a threat (don't get me wrong, it absolutely is), I saw it as an opportunity to use commuting time to train even more. I changed my rhythm and kept my alarm at 7 am. Usually, I am awake between 6 and 6.30 am, so I can run or cycle during the day.
I am also very pleased that my employer supports me in this. his work / private balance took a while to find, but I am motivated by my colleagues and by the space that individuals are given to self-expand. Not only work-related but also how you develop as a person.
Sad news..
The 4 miles I trained for have been canceled. What am I going to set myself as a goal, a 10km, a 15km or even 17.5km... what is still feasible in 3 weeks, not much I gambled, but oh well you better fail a challenge than not try it:
I'm just doing a half marathon on April 5 (day of the original 4 miles)
Half Marathon - Holy Moly .. I did it
Against all odds, I completed the 21.1-kilometer run in 2:13:xx. The start was good, a little headwind but that was lovely due to the cooling of my body. My energy levels started to drop around 15 kilometers, a quick stop for a red bull. It was also the first warm day of the year, so 4 kilometers later I had a glass of water with my parents and tried to cool myself down. Time just kept going so I had to pull myself together the last 2 kilometers.
What a great feeling to come home after such a distance. If there are running events this year (considering all lockdowns), then I hope I can run a half (21.1km) or full marathon (42.2km) in the fall.
How do I feel and has my body changed a lot?
I feel much physically fitter, which in turn has a direct impact on how I feel mentally. Less tired, no "sugar dips" after lunch and much more active overall. I went from 'overweight' to 'good', while remaining most muscles.
2 comparisons, 2018 vs now.:
Would you recommend it to everyone? If so .. why then or why not?
You really shouldn't do this
if you really don't want to, then it doesn't add anything. If you have made the choice to do it; the beginning is a bit tricky but I am sure you will benefit within 3 months.
I would advise you to stop smoking anyway, if you save that money now you can give the travel industry a well-deserved boost at the end of this year;)!
Do you have the best tip for people who would like to start something?
"Today is the day to start, no more excuses. You are probably at home and hopefully can give your life a boost; go for that extra energy, those last pounds; when the COVID-19 misery is over, you are grateful to yourself"
If you can afford it (and want to pay) then get a good smartwatch, the Apple Watch has really helped me a lot. The progression you see in heart rate, oxygen uptake and hours of sleep; indispensable to me. A digital scale with coupling for Apple Health, for example, is a valuable addition.
Must have apps: